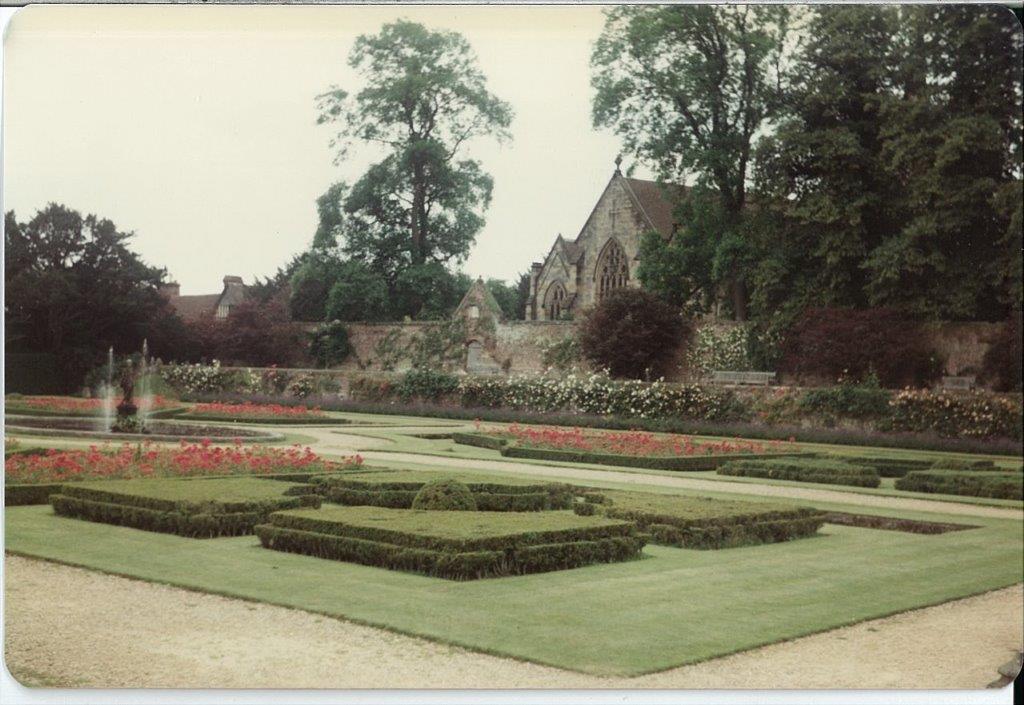 In an age of confusion many seek for they know not what. They cannot be blamed for their uncertainties because the surrounding culture has become toxic and misleads them. This is the first great truth, to understand that the age is evil, that it lacks balance and proportion, and that it has abandoned truth for a sterile relativism ; but there is a way which can lead to peace. A way that is narrow and challenging, but which frees from the darkness. It demands only a surrender, a willingness to step into the light.
Evelyn Underhill (1875 – 1941) was a mystic in the spirit of the mediaeval authors who wrote about the resultant necessity of awakening, purification, and illumination of the self, about harmony and order. These themes she explores in her classic work Mysticism: A Study in Nature and Spiritual Consciousness (1911). In this book she writes: "The mediaeval mind, more naturally mystical than ours, and therefore more sharply aware of the part which rhythmic harmony plays in the worlds of nature and of grace, gave to music a cosmic importance, discerning its operation in many phenomena which we now attribute to that dismal figment, Law. 'There are three kinds of music,' says Hugh of St. Victor, 'the music of the worlds, the music of humanity, the music of instruments. Of the music of the worlds, one is of the elements, another of the planets, another of Time. Of that which is of the elements, one is of number, another of weights, another of measure. Of that which is of the planets, one is of place, another of motion, another of nature. Of that which is of Time, one is of the days and the vicissitudes of light and darkness; another of the months and the waxing and waning of the moon; another of the years and the changes of spring, summer, autumn and winter. Of the music of humanity, one is of the body, another of the soul, another in the connection that is between them.' Thus the life of the visible and invisible universe consists in a supernal fugue. One contemplative at least, Richard Rolle of Hampole [1290 – 1349], 'the father of English mysticism,' was acutely aware of this music of the soul, discerning in it a correspondence with the measured harmonies of the spiritual universe."
Such ideas have become profoundly counter-cultural. Many have forgotten how to seek God and even when the desire is kindled in them do not know how to set about it.
Many have forgotten how to pray, and it will be as well therefore to go back to the basics, to change the rhythm of life even for a short while every day. This may begin by concentrating upon God, usually with the very prayer Christ taught us, the "Our Father".
Or the Anima Christi, a mediaeval prayer dating from the early fourteenth century.
Soul of Christ, sanctify me
Body of Christ, save me
Blood of Christ, inebriate me
Water from the side of Christ, wash me
Passion of Christ, strengthen me
O good Jesus, hear me
Within Thy wounds hide me
Permit me not to be separated from Thee
From the malicious enemy defend me
In the hour of my death call me
And bid me come unto Thee
That with thy Saints I may praise Thee
Forever and ever. Amen . . . .
Another is the Jesus Prayer of the Orthodox. "Lord Jesus Christ, Son of the Living God, Have mercy upon me, a sinner." This is called the prayer of silence (hesychast) but the full method, in which the supplicant assumes particular postures and breathing patterns, should not be tried without a spiritual guide. This prayer may be used, however, without that method and may be the means of achieving unceasing prayer through all daily activities. This simpler way, safe for the beginner, was taught by St. Gregory Palamas (1296 – 1359) who said that unceasing mental prayer is the duty of all Christians. Anyone can practice it. The classic exposition is in The Way of the Pilgrim, but its simple piety is not for every one and another standard book is by Bishop Ignatius Brianchaniov (1807–1867).
Evelyn Underhill set out a simple direction for contemplation. Sit in a comfortable position, close your eyes, and think about a phrase, truth, dogma, event. For example a phrase from the "Our Father" or the " Anima Christi", something from Christ's passion, nativity, or episode from his life were generally what she chose.
Consider this idea deliberately. Then shut yourself off from your senses, until the external world seems unreal and distant, but hang on to the idea and then turn inward and sink downwards into silence and peace. Doing this is never easy at first. She suggested that the exercise should not be tried when one is tired, that other forms of prayer that come naturally should not be given up, and that what seems profitless and arid at first should not be a discouragement. It is possible to receive spiritual benefit without being aware of it, or without having strong feeling. Indeed the mystics recommend, that loud emotion and strange visions are dangerous.)
The practice will seem strange and unrewarding in the beginning, and therefore short times are recommended — five or ten minutes to start.
A short sentence is usually best. Here are a few.
Meekness in itself is nought else but a true knowing and feeling of man's self as he is.
(The Cloud of Unknowing)
One must go into the darkness for that is where God is.         (Alfred Romer)
Blessed is the man whose strength is in thee; in whose heart are the pilgrim ways. Who going through the vale of misery useth it for a well; and the pools are filled with water. (Psalm 84)
Seven gifts of the Holy Ghost are in men and women who are ordained to the joy of heaven and lead their life in this world righteously. These are Wisdom, Understanding, Counsel, Might, Knowledge, Pity and the Fear of the Lord.     (Richard Rolle)
In the world to come I shall not be asked, "Why were you not Moses?" I shall be asked, "Why were you not Zusya?"                        (Rabbi Zusya)
We must alter our lives in order to alter our hearts, for it is impossible to live one way and pray another.                                (William Law)
Happiness and calm are neither inside nor outside us. They are in God, who is both inside and outside us.                            (Blaise Pascal)
Remember, you do not live in the world, you only pass through it.     (Leo Tolstoi)
Life is a pure flame, and we live by an invisible sun within us.     (Sir Thomas Browne)
Do not think that you can find peace for your soul without faith.     (Leo Tolstoy)
    A particularly attractive method is the Ignatian imaginative prayer.
Begin with a particular scene from Scripture, usually an episode in the life of Jesus, for example the multiplication of loaves (Mark 8: 1 – 21), the wedding feast at Cana (John 2: 1-12), the road to Emmaus (Luke 24: 13 – 35). Prepare by clearing the mind, making a gesture of reverence, and a short petition that God will direct your thoughts. Read over the chosen passage and then project yourself into that scene, either as an onlooker or as one of the characters. You may cast yourself as the host who runs out of wine at Cana, as one of the crowd at the multiplication of the loaves, or as one of the disciples who was walking to Emmaus after the most memorable week in the history of the world.
Look at the people in the scene, talk to them, observe the action. Move about or perhaps just watch attentively. You might be a bystander, afraid to ask Jesus for healing (Luke 8: 43 – 48) , or Zacchaeus up the tree (Luke 19), or the boy with the five barley loaves and two small fishes (John 6).
Leave the scene in your own time, and finish with a prayer. Review the significance and ponder the results of the meditation. Perhaps write a journal. The effect of such an exercise is rather like the impression produced by the acting of morality and mystery plays in the middle ages, or dramatisations of sins and virtues and devils. We make the great narrative our own and enter into it. The prayers and reflections at the beginning and end of this meditation help to keep us well grounded so that we neither fly off into the realm of fancy nor indulge in sentimentality.
Sometimes the prayers of others help to concentrate the mind:
Great and holy is the Lord, the holiest of holy ones for every generation.  — The Dead Sea Scrolls (1st. century)
We pray for all saints, for kings and rulers, for the enemies of the Cross of Christ, and for ourselves we pray that our fruit may abound and we be made perfect in Christ Jesus our Lord.        — Bishop Polycarp (69 – 155)
If any man reads about the martyrs he will find that though they are modern, they are not inferior to the ancient ones. They will edify the church just as much. These new examples of virtue will prove that it is one and the same Holy Spirit who was active then and is active now.  — Tertullian (155 – 220)
Let us keep the scriptures in mind and meditate upon them day and night, persevering in prayer, always on the watch.  — Origen (185 – 254)
Lord, let the weary body lie sunk in deep slumber. The heart shall remember Christ in its very sleep.      — Prudentius (348  413)
Grant us, O Lord, not to mind earthly things, but to love things heavenly, and even while we are placed among things that are passing away, to cleave to those that shall abide.— Leonine Sacramentary (5th century)
Where my human intellect may fail, do thou correct me, when I hesitate in the truth, do thou strengthen me, and from all false and harmful ways of thought do thou protect me. —  St. Fulgentius of Ruspe (467 – 533)
O God, that art the only hope of the world, the only refuge for unhappy men, abiding in the faithfulness of heaven, give me strong succour in this testing place. — The Ven. Bede (672 – 735)
Good Jesus, thou hast deigned to refresh our souls with the sweet streams of knowledge: grant that one day we may come to thee, its source and spring.   — Alcuin of York (735 – 804)
O thou guide of our feeble sight and star of our darkest night, show us the way! — King Robert of France ((865 – 923)
I do not seek to understand so that I can believe, but I believe so that I may understand; and what is more, I hold that unless I do believe, I shall not understand.  — St. Anselm (1033 – 1109)
Preserve us, O Lord while waking, and guard us while sleeping; that awake we may watch with Christ, and asleep we may rest in peace.    — Sarum breviary (11th century)
Let my heart be free from every unworthy thing that I may be free to love thee, O God, with all my heart and soul and with all my strength. — William of St. Thierry (1085 – 1148)
Thanks be to Thee, Lord Jesus Christ, for all the benefits that thou hast given us, for all the pains and insults that thou hast borne for us. Oh most merciful redeemer, friend and brother, may we know thee more clearly, love thee more dearly, and follow thee more nearly day by day.  — St. Richard of Chichester (1197 – 1253)
Do not suffer me to judge according to the sight of my eyes, nor to pass sentence according to the hearing of the ears of ignorant men, but to discern with true judgment between things visible and spiritual.      — Thomas à Kempis (1380 – 1471)
My Lord and my God, take me from myself and give me completely to thee.  — Nicholas of Flue (1417 – 1487)
O Lord God, when thou givest to thy servants to endeavour any great matter, grant us to know that it is not the beginning but the continuing of the same, until it be thoroughly finished, which yieldeth the true glory.     — Sir Francis Drake (1545 – 1596)
Give me my scallop-shell of quiet, my staff of faith to walk upon. — Sir Walter Raleigh (1554 – 1618)
Abide with me, Lord, for it is towards evening and the day is far spent of this fretful life. Let thy strength be made perfect in my weakness.  — Bishop Lancelot Andrewes (1555 – 1626)
O come quickly, glorious Lord, and raise my sprite to thee!  — Thomas Campion (1567 – 1620)
Praise the Lord ye heavenly harmonies and ye who know the revealed harmonies. For from him, through him and in him, all is which is perceptible as well as spiritual; what we know and what we do not know, for there is still much to learn. — Johannes Kepler (1571 – 1630)
The church is the house of prayer, so, as that upon occasion, preaching may be left out; but never a house of preaching, so as that prayer may be left out. — John Donne (1572 – 1631)
Teach me thy love to know that this new light which now I see may both the work and workman show that by a sunbeam I will climb to thee.  — George Herbert (1593 – 1633)\
O Lord, we humbly beseech thee to keep thy church and household continually in thy true religion, that they which do lean only upon hope of thy heavenly grace, may evermore be defended by thy mighty power; and that I may humbly and faithfully serve thee in this thy Church, through Jesus Christ our Lord.  Amen.   —Archbishop William Laud (1573-1645)
Glory to thee O God this night for all the blessings of the light. — Bishop Thomas Ken (1637 – 1711)
When I behold the works of thy hands, and consider the course of thy providence, give me grace always to remember that thy thoughts are not my thought, nor thy ways my ways; and while it shall please thee for me to continue in this world, where much is to be done, and little to be known, teach me by thy Holy Spirit to withdraw my mind from unprofitable and dangerous enquiries, from difficulties vainly curious, and doubts impossible to be solved.  — Dr. Samuel Johnson (1709 – 1784)
Incline us, O God. to think humbly of ourselves, to be saved only in the examination of our own conduct, to consider our fellow-creatures with kindness, and to judge of all they say and do with the charity which we would desire from them ourselves.  — Jane Austen (1775 – 1817)
Take me to thy rest, I pray thee, when my pilgrimage is made. — Charles Dickens (1812 – 1870)
Almighty God from whom all thoughts of truth and peace proceed, kindle, we pray thee, in the hearts of all men the true love of peace; and guide with thy pure and peaceable wisdom those who take counsel for the nations of the earth; that in tranquillity thy kingdom may go forward, till the earth be filled with the knowledge of thy love: through Jesus Christ our Lord.  — Bishop Francis Paget (1851 – 1911)
Help me, O God, to let go all my problems, and fix my mind on you. Help me, O God to see my own sins, never to judge my neighbour, and may the glory be all yours.
— Archbishop Anthony Bloom (1914 – 2003)
I thank you, Lord, for your unceasing presence in your creation. May I attain that quiet attention to the present moment by which to know you and to serve you best. — Martin Israel (1927 – 2007)
Hugh of St. Victor says that meditation starts from reading, but is not bound by readings or precepts, delighting rather to range along on open ground and freely to contemplate truth.
Excerpts adapted from A MEDITATION ON KING RICHARD III. chapter XI.
This book is available from Xlibris.com
http://bookstore.xlibris.com/Products/SKU-000777175/A-Meditation-on-King-Richard-III.aspx